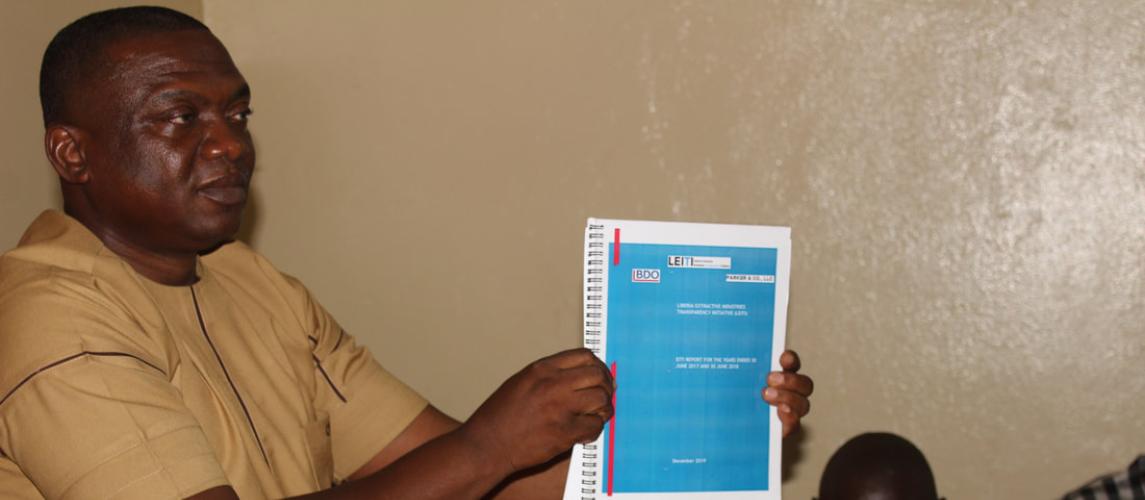 MSG Approves 10th & 11th EITI Reports for Liberia
The Multi-stakeholder Steering Group (MSG) of the Liberia Extractive Industries Transparency Initiative (LEITI) on December 31, 2019, endorsed and approved the 10th_and_11th_eiti_report_for_liberia covering the periods 2016/17 and 2017/18.

LEITI MSG at the start of October 2019 commissioned BDO-UK in collaboration with Parker & Associates Liberia, two reputable auditing firms to prepare the 10th &11th EITI Reports for Liberia.
The reports reveal that the total revenue received by the government from the oil, mining, forestry and agriculture sectors for the period July 1, 2016 to June 30, 2017 amounted to USD53.84m, whilst the total amount received for the period July 1, 2017 to June 30, 2018 amounted to USD68.9m. This represents a 28% increase in revenues collected from the sectors covered under Liberia's EITI scope. The 2017/18 report shows a difference of $490,521 government receipts over what was reportedly paid by companies. LEITI will investigate further these discrepancies. The report also reveals challenges in sectorial oversights, data collection and licensing processes, among others. LEITI will begin to work with relevant government ministries and agencies to address these concerns.
With today's approval and launch, the report is now set to be disseminated across the country to discuss the findings with the citizens and solicit feedback on how to improve governance of the extractive sector. 

In addition to the 10th and 11th EITI Reports, the LEITI MSG has also approved and published the 2017 and 2018 Annual Progress Reports, and the 2019/20 fully costed Workplan in keeping with EITI Requirements.

The Chairperson thanked all stakeholders and expressed government's commitment to transparency in the extractive sector. He assured all stakeholders that LEITI will continue to play its role in ensuring that Liberians benefit from their abundant extractive resources.
Whilst the publishing of these reports is a significant step forward, the Chairperson highlighted the challenges for Liberia's third EITI Validation which will commence shortly. He encouraged the entire MSG and other stakeholders to continue their good support towards the EITI implementation so that Liberia passes EITI Validation. LEITI has lifted in its 2019/2020 Workplan key activities including a Beneficial Ownership Registry and Mainstreaming the EITI reporting process. The Chairperson also called on the government and development partners to ensure these key initiatives are funded.

Along with reports the MSG also approved the combined 2017 and 2018 Annual Activity report and the costed 2019/2020 workplan.